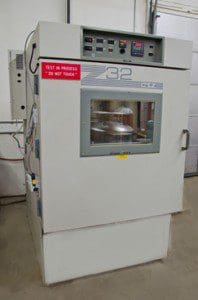 Quest offers a comprehensive set of test sequences to help optimize your product's cooling design while minimizing noise.
In addition to airflow and audio testing, we offer infrared camera testing and an assortment of Temp/Humidity test chambers, and all the instrumentation required for thermal measurements.
Quest can perform the tests to demonstrate your product's MTBF (Mean Time Betweeen Failures).
We can perform ESS (Environmental Stress Screening) tests to improve your product's reliability, which many suppliers are now looking for to ensure a products longevity.
Our stress screening tests can be highly accelerated or more precise tests with modest acceleration. Our large test chambers allow for large sample sizes, which have the capability to fit 6 pallet loads.
The broad test and design capability at Quest, lets you efficiently experiment with a range of design ideas and quickly validate the final design.
Please remember to contact Quest for any future testing needs you may have. In addition to Thermal Testing, Quest offers numerous testing services needed by engineering companies or manufacturers. These include Audio, Airflow, Altitude, burn-in, EMI, ESS, humidity, IPX Water Testing, Mechanical Shock, Salt Spray Testing, Temperature, Thermal Shock, Transportation simulation (packaging testing), and Vibration.